Most Interesting commentary on local temper-atures and other Really Interesting tidbits
...ok, last week it looked like this (with occasional bursts of sun and springlike temps):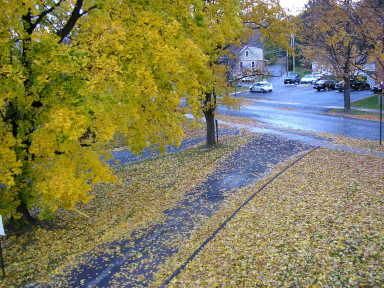 So pretty. Working inside is super fun when you'd rather be outside in the foliage and/or inside drinking coffee inside looking at it...
...and today. holy frosty the snowman and red cheeks, it has been like THIS: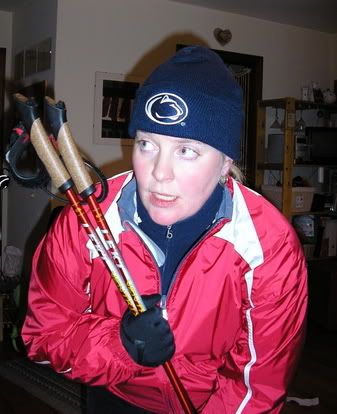 LIsa: novice scholar, nordic walking fan and "...German 3 maven." (Malfeasance, 2005). Hey, I don't make these things up.
Stay warm, late fall may very well be here.
On another note: Cheers to the WSU Cougars for hopefully disgracing the UW Huskies on Saturday at the Apple Cup. Both teams are varying degrees of awful but the Cougs have been playing better, just running out of time with not quite enough points on the board. The Huskies are 2 and something. TWO. Oh but wait, the Cougs are ZERO in the conference, keeping the spot at Rock Bottom of the Pac-Ten warm. Should be an all out hootenanny!
The Apple Cup is the last game of the year and is the state of Washington's annual showdown for Pac-Ten rivalry weekend. In Oregon they have the Civil War, and in the Evergreen State it's a more gentle affair, named after one of the state's largest exports. Gentle, my eye. Friends are divided, marriages are mixed and alum of each school retreat to their separate corners to gang up on each other and cheer.
To illustrate just some of the area vim 'n vigor, the following mini "sweet photo essay" (Ginapalooza, 2005) will reveal the winner of the state-wide fundraiser for hurricane aid, with donations designated by alumni and friends of each school tallying up to thousands and thousands buckaroonies, wherein the winning school's colors and flag have been flying on top of the Space Needle (save for Veteran's Day) and whose colors the top of the Needle will be painted for the whole Apple Cup weekend.
Wait, what's that I see in the distance?
I dunno, but Puget Sound looks righteous! Hang, on, I think the winning school is....
So Fight Fight Fight for Washington State / and Viiiiiic--tooorrrr-eeeeeee....! Cougar Country comes to Seattle (home of the Ewe-Dub...) is a precious statement indeed! By the way, any UW professors, please don't hold this entry against me when I apply for jobs at your institution...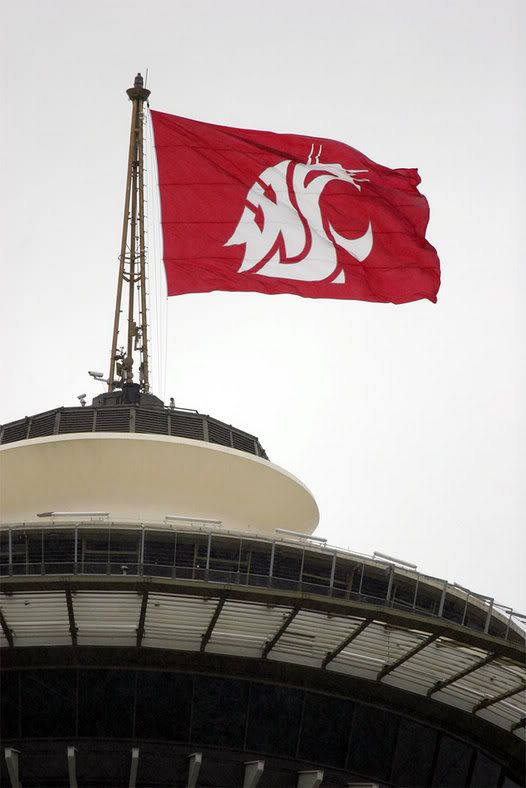 and for good measure so you can see just how GLORIOUS it all is, this pic from somone's 'Sky Cam':
And go Penn State on Saturday. Bowl game bowl game bowl game!
Ok, I'm off to go see Alison Krauss & Union Station in a bit, must run.
---------UPDATE----------------
OK, Alison Krauss & Union Station live = super smooth as butter. They are the real deal, amazing players. Shya!
Your comments: