Could things get any weirder?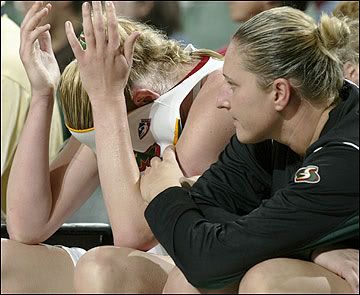 Photo: Jeff Reinking, NBAE/Getty
Today's Most Interesting Photo comes to you to relay my, ok, I'll say it,
absolute
shock of Seattle Storm being booted hardcore from defending their 2004 WNBA title...totally stomped at home at Key Arena, unbelievable. Like you have never seen a bigger smearing on the court. OK, so I wasn't
there
but did get a feel for the stun-age whilst listening to the online broadcast. It's a heartbreaker when even super power forward Loz from Oz (#15 above, face in jersey, Ms. Lauren Jackson) cries as the clock winds down. A total 180 degree turn from how they'd been doing. I mean, in the big picture of life it's 'just' sports entertainment, but this team is all heart and so is its small but very loyal fan base, so it's just sucky.
Ah well. On to the 2006 season. Hopefully I can hit a game or two whilst in Seattle in the summer, maybe even bringing some newbies so I can hear that cute reaction that many, in my experience, tend to have at their first womens' pro game: "Holy
shit
those girls are tall!
By the way, Tanisha Wright (#30), I hear you are coming back to Penn State now to finish up your degree in the off season, let me know if you want to audit my German 3 class.
On a more relevant note, players and fans have been raising tons of cash at home games in particular for Storm center and New Orleans native Janell Burse's parish. Her family has lost everything, I can't imagine what it's like to be one of the zillions this is hitting so hard. Despite all the crap people seem to be sticking together on this and I hope that vibe grows and grows and grows.
The picture though also kind of relays the general dismay of how I've been feeling about images, narratives, commentary and information on Hurricane Katrina's devastation. Basically a hands-up-in-the-air-can-I-get-a-big-old-'WTF'? But feeling blessed that a friendly reassuring hand is on my jersey, metaphorically speaking, of course, since I'm too damn short to be a pro contender on the court. I could always bite ankles, I suppose.
www.redcross.org -They say every little bit helps. I have to think that it's the act of even wanting to help in the first place that is going to help. What's going to happen to New Orleans? Your comments go here: