Bring It!
2004 WNBA Champion Seattle Storm basketball starts TODAY!
Lauren Jackson, #15: SUPERSTAR!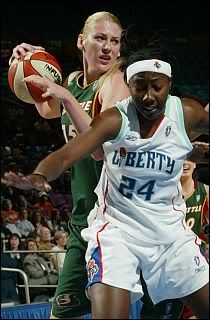 This is the first year in three seasons that I have NOT been physically present at Key Arena for the Storm's opening game--thankfully the game is being nationally televised on ABC so I can watch from Most Interesting Pennsylvania. And what makes it sweeter is that they are so far beating nasty Western Conference rivals Los Angeles. The team I hate to love, love to hate. I've grown to a huge fan of the Storm and I love the league's down to earth play and non-inflated egos (nor ticket prices) and just plain good GAME with the Best of the Best ball-ahs from around the globe.
The final roster cuts have been painful, as many vets are now gone...but rookie Tanisha Wright (#30) from PENN STATE made the cut and is on TV in her Storm uniform, could that be any cooler?
The Sonics have beeen eliminated from the NBA Playoffs, thank god the Storm is rolling in....
COMMENT!