Saturday Night Smackdown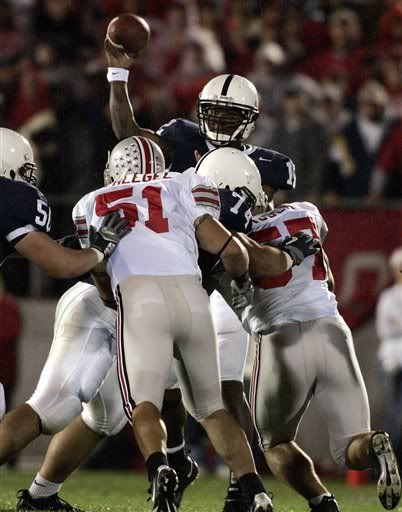 AP photo/Chris Gardener
.
Dang, Penn State's QB Michael Robinson is pretty good!
All Happy Valley's in a tizzy, I say we seriously consider taking at least a week off to just plain recover from all the excitement and the sudden weather change from balmy autumn leaves falling to floodgates of rain wrath and colder temps. Today in town it was like everyone had that college town Sunday hangover..."Dude, I just need some cheese fries and a beer or like an omlette or something", in sweatshirts, baseball caps, flip flops, or exactly whatever people were wearing when they tumbled into bed last night after revelling in Penn State's win over Ohio State. With the win, Penn State football is now undefeated AND has beaten nemesis Ohio State, so it's all very exciting, and of course doesn't mean much in light of the fact that 20,000 people in Asia are dead from an earthquake, but it's a good feel-good distractor.
I watched the game over at Red, Red Rine's where the majority were OSU fans but, let's face it, there's nothing wrong with a mixed viewing party once in a while to keep things exciting. One thing we can all agree on, regardless of Big Ten allegiance, is that we all cannot stand ugly old MICHIGAN (vs. WAZZU at Rose Bowl or vs. any Big Ten team any time or just, in general as a rule). So the fact that Michigan LOST to 'ole Minnesota yesterday made the game at State College even more fun. I will make the sweeping declaration now that if Penn State beats them next week in beautfiul downtown Ann Arbor, then we will be talking exciting post season and no students will study any more this semester and/or the board of directors and powers that be will petition for a new major, to be titled "Applied Tailgating".
Go Lions, and someone please take the crack away from the Washington State Cougars locker room, it's making them lose at home to woosy teams like Stanford. My thrill is with the Pac-10, but Big Ten is getting pretty exciting here.
Over, out. Comments, roger that: