Where's Lisa? I don't know, but Alaska!
Packed and ready to go on our family cruise for 7 days. It's a busytown here at the Olde Log Inn. I think between all 8 of us we have at least 87 pieces of luggage. Wait til you hear about what vehicle of transport we rented to surprise my grandparents with for smooth ridin down the the dock!
Stay tuned for more blogging fun, aww yeah, we're bringin the laptops. No promises on the frequency of updates, but surely there will be SOMETHING. May I also suggest keeping track of Ginaopolis, (link right) authored by my stateroom matey...
Today we board the ms Amsterdam (Holland America line) in Seattle. In the days that follow: Glacier Bay, (AK); Juneau, Sitka, Ketchikan, Victoria (B.C.) and back to Seattle.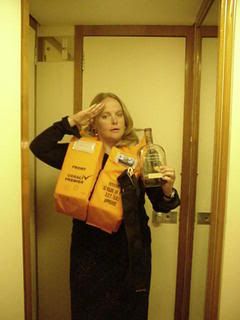 OBEN: Now that's what I call a safety drill! [on the QE2, June 2003. New York en route to Southampton, Angle-land]